The team at Quicke's in Devon are famous for their innovative ideas and their marketing prowess.
No one will ever forget their famous PR stunt when they popped branded jackets on the cows grazing in their fields by the A377 to Exeter.
Recently the artisan cheesemaker has been doing more 'thinking outside the box' and has stepped up its mail order operation to meet growing demand.
Consumer trends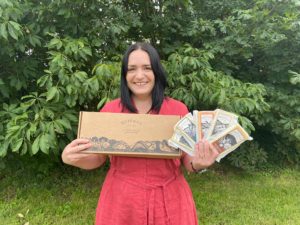 Kate Rippin, Product Manager at Quicke's, says: "Consumer trends are changing. They've accelerated during the various 2020-21 lockdowns too. People are now much more tuned into buying online from home and having their food items delivered to them.
"There has also been a big increase in people rediscovering their kitchens, playing greater attention to what they are eating and buying British.
"People are now creating dining experiences at home, reclaiming their dining rooms and setting up instagrammable tablescapes to wow their friends."
Time-honoured methods
Quicke's use time-honoured methods and recipes passed down through the years to create outstanding cheese, handmade, clothbound and slow matured to perfection.
"They not only offer exceptional flavours, but they are highly visually appealing. To meet this growing customer demand, we created a new product so consumers could enjoy the delights of cheese tasting at home."
They approached us to help develop and produce an on-brand, printed postal box for their new cheese tasting home delivery service.
Lifestyle choice
An important part of this new offering was a box to hold the samples that could be posted through the letterbox yet still be classy and protect the cheese inside.
"What we wanted was more than just a box, it was something that did the job but also represented a lifestyle choice and an exciting experience for the recipient.
"At Quicke's, we understand that great cheesemaking is an art and we're custodians of the land farmed by the family for 14 generations. All this needed to come across via our new mail order box."
Hinged-lid style box
We developed a hinged-lid style box using e-flute corrugated material that offered protection, at just the right size to hold the cheese wedges plus ice packs.
The boxes were printed inside and out in black onto the brown Kraft material, giving a classy and on-brand image.
We also developed a larger box for their other home-delivered options.
Not only do the boxes look the part, delivering on Quicke's brand values, they are also recyclable and sustainable, thanks to our Carbon Balanced initiative.
Get in touch

If you're an artisan or SME food or drink producer that has upped your mail order presence and is looking for printed packaging for your product that can easily be posted through a letterbox, make contact with us today for an informal and friendly chat.